The colonial pith helmet, the movie-Nazi fedora and whites and the first lady wants us to take her seriously?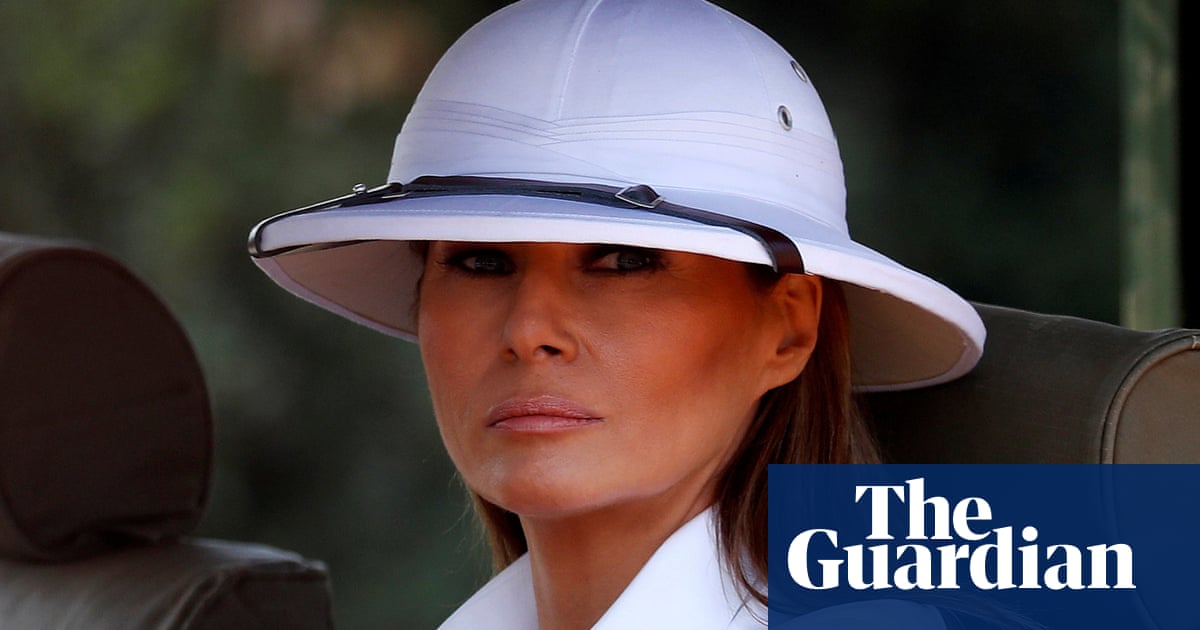 Are we allowed to talk about Melania Trumps outfits, or is it too belittling? I cant keep up any more.
Daniel, by email
Ooh, its a tricky one, isnt it, Daniel? On the one hand, seriously, is that woman actually wearing a PITH HELMET in Nairobi? And, on the other, are we being unfeminist talking about it? Where is Andrea Dworkin when you need her, or maybe just Emily Post? Lets hear from Trump herself, as she gave a marvellously huffy TV interview about this very subject when she was in Egypt last week:
I want to talk about my trip, not what I wear. Thats very important, what I do, what were doing with US aid, what I do with my initiatives, and I wish people would focus on what I do, not what I wear, she harrumphed. And yet, her words might have had more impact if she hadnt said them while dressed like Belloq the Nazi collaborator from the Indiana Jones film Raiders of the Lost Ark. Im sorry, Melania, its just really hard to listen to a woman when shes wearing the clothes of one of the most famous fictional Nazi collaborators of all time. Call me crazy!
Yes, aid is important. But what is Melania Trump doing with the US Agency for International Development (USAid)? Last time I checked, the Trump administration which she is there to represent tried to slash its funding by almost a third in the presidents first two budgets. Of course, anyone who asked her about that was promptly shut down, as Time magazine reported, because, it turned out in an amazing plot twist, Melania did not want to talk about US aid either.
But her programme! Yes, her famously hard-hitting Be Best programme. Something about cracking down on bullying, wasnt it? But wait, whose husband was it who, last Friday, as Melania was doing her Out of Africa cosplay tour, was telling the world that Dr Christine Blasey Ford had made up her sexual assault claims against Brett Kavanaugh and, on Tuesday, that the allegations were brought about by people that are evil? Take your time to think about it. Fun reminder! Ford, her husband and children are still not able to live in their own home because they are receiving endless death threats, according to her attorneys. Gosh, if only someone close to the president was supposed to give a toss about bullying Its almost sweet that the first lady wants to draw attention to her baloney platform, given how little she does for it. In 2017, she gave eight speeches. Eight. To put that into some kind of perspective, Laura Bush gave 42 speeches in her first year. Michelle Obama gave 72. Do we have time to mention that a booklet published in May as part of the Be Best initiative, about encouraging well-being for children online, was found to be basically identical to one published by the Obama administration? Oh, look at that. I think we just did.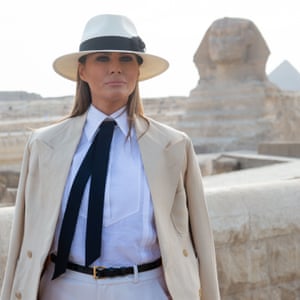 Read more: https://www.theguardian.com/us-news/2018/oct/10/talk-about-melania-trump-africa-wardrobe-pith-helmet-nazi