While the Austin campus has a sustainability plan and promotes recycling, the university is also a major fracking landlord that leases millions of acres to oil and gas companies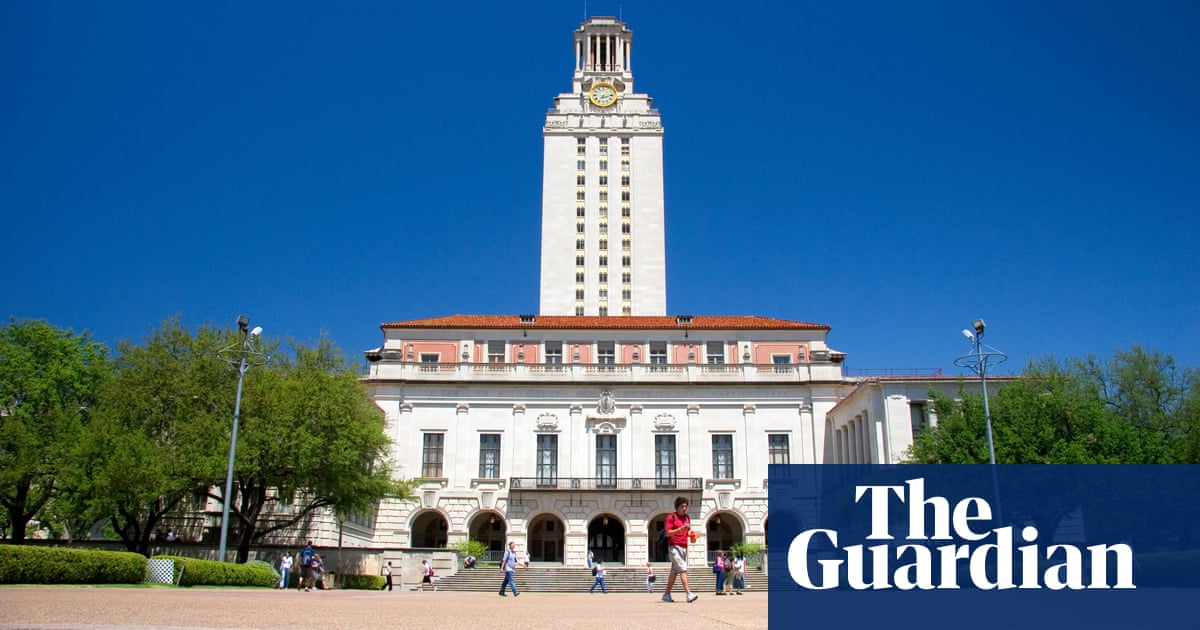 The dusty oilfields of west Texas can feel a world away from the bustling heart of Austin, the states eco-conscious capital.
A common thread is the University of Texas: one of Americas biggest academic institutions and one of its largest landowners. University land managers control 2.1m acres in Texas, much of it leased to oil and gas companies who have installed 9,000 wells on its property.
But the public universitys role as a major fracking landlord is coming under renewed scrutiny with the appointment of a new chancellor, and increasing concern over methanes impact on climate change, especially as the Trump administration rolls back Obama-era pollution standards.
The Texas legislature established an endowment fund in the 1800s, hardly imagining that what was remote and desolate brushland would become immensely valuable thanks to oil and fracking booms.
Today there are more than 375,000 students combined in the University of Texas (UT) and Texas A&M systems and their main endowment fund swelled last year to almost $20bn, with $625m added from oil and gas royalties in fiscal year 2017 alone.
As the Austin location has introduced a sustainability plan and promoted recycling initiatives with the goal of becoming a zero-waste campus by 2020, the funds land management entity, University Lands, has continued to profit from fossil fuels.
University Lands brought in $118m last September by leasing about 44,000 acres for more than 300 new wells in the Permian Basin as part of the largest offering in its history.
Some students, faculty members and activists, though, are urging UT to rethink its relationship with the oil and gas industry and do more to manage methane releases on its property.
The students overwhelmingly support measures to minimise our impact in this issue, said Andrew Costigan, a graduate student at UT in Austin.
A study published in June found that US oil and gas-related methane emissions are 60% higher than the federal government had estimated.
Some of the worlds biggest oil and gas companies have recognised the problem, pledging last month to cut emissions by a fifth by 2025.
Yet under Donald Trump the Environmental Protection Agency (EPA) wants to ease rules designed to limit methane leaks on public lands.
[The UT System] really ought to be global leaders when it comes to sustainable development of oil and gas and an integral part of that of course is emissions control, said Les Shephard, a professor of civil and environmental engineering at the University of Texas at San Antonio.
Environment Texas, an Austin-based advocacy group, is campaigning for UT to require its tenants to cut methane pollution in half within five years. According to the group, if University Lands was a state it would be the 10th-biggest oil producing state in the US.
The UT Systems then-chancellor, William McRaven, responded in May with a letter in which he wrote that an internal assessment of the issue of emission reductions is already underway and cited EPA data indicating that methane emissions from the oil and gas industry on university-owned lands and across the US have fallen in recent years despite increases in production.
He declined a request to form a methane task force, preferring to leave that decision to his successor, James Milliken, the former chancellor of the City University of New York, whose appointment was confirmed last month. A UT System spokeswoman said that Milliken will be briefed on the methane issue as soon as possible.
Care of this invaluable asset which includes air quality is a top priority for University Lands and the UT System, University Lands CEO Mark Houser said in a statement to the Guardian.
It is our belief that hydrocarbons will continue to maintain a significant role in the energy mix for the foreseeable future, equipping both UT and Texas A&M Systems with a significant, long-term competitive advantage. This resource necessitates a long-term management philosophy; environmental stewardship is critical to that philosophy and, as such, is a key priority, he said.
Houser said that University Lands, though a royalty owner not a regulator, has increased its focus on emission reductions strategies. Environmentalists want university leaders to add to existing programmes, work closely with operators and experts to introduce new technologies and lease more land for renewable energies such as wind and solar.
When students and faculty are calling out all around the country for universities to lead on climate, some going as far as fossil fuel divestment, theres a lot of pressure on universities to be leaders on sustainability, said Luke Metzger, director of Environment Texas.
And when youve got the president going backwards and taking the country away from reasonable steps to reduce greenhouse gases I think that makes it even more urgent for universities like UT to act, especially when they have such a large methane footprint.
Harvard declared a pause on some fossil fuel investments last year while student activists at Stanford have long called for divestment.
Heather Houser, an associate professor of English at UT Austin, who is no relation to Mark Houser, believes it is imperative that academic institutions take a stand on environmental and other policy matters given the prevailing currents of this political era.
Some of the rollback and attacks on the EPA and other organisations are also attacks on knowledge production, which is what universities are about, she said.
It really gets at the core of a universitys mission of producing knowledge to the benefit of society and I think if you have an administration thats attacking that very idea, its incumbent on universities to defend it.
Read more: https://www.theguardian.com/us-news/2018/oct/10/university-of-texas-eco-conscious-campus-and-major-fracking-landlord