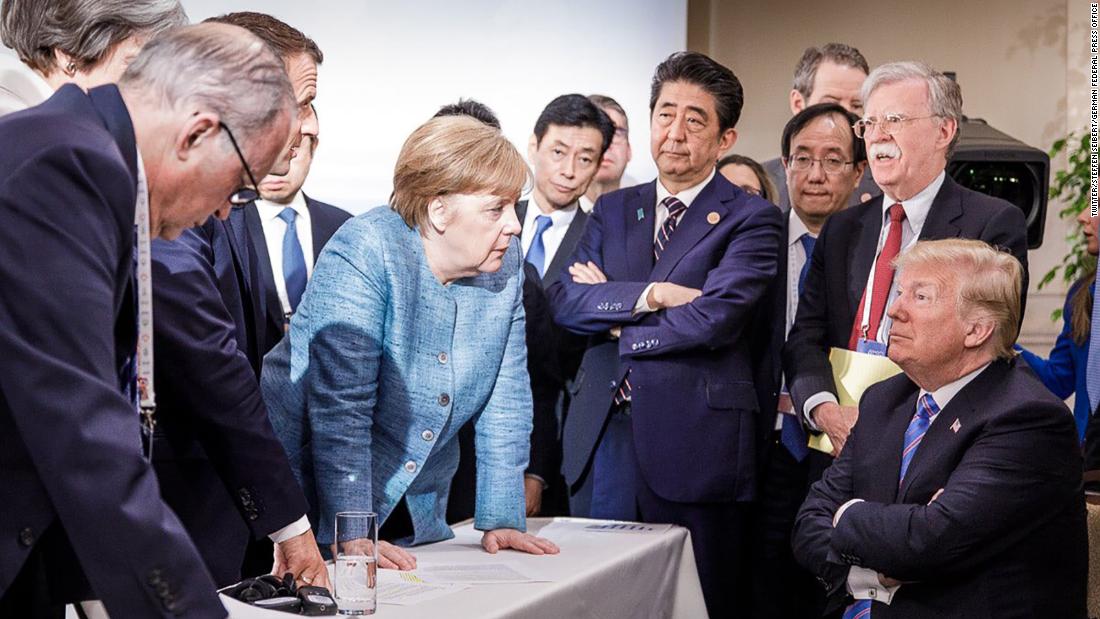 (CNN)From somewhere above 31,000 feet, heading to his North Korean summit in Singapore, Donald Trump pitched a hand grenade into this weekend's G-7 meeting of the world's leading democracies.
This
last-minute reversal
raises a dangerous question: How can Kim Jong Un trust that any agreement he makes with Trump would last beyond the setting of the next sun?
Of course, in Singapore, we will have perhaps the only two world leaders congenitally incapable of keeping any deal they've struck.
Still, G-7 2018 is in the books. The leaders of the other six leading democracies in attendance have now scattered to their homes. Yet the wounds Trump has left behind are deep and will not soon be forgotten.
On Sunday morning, Trump's chief economic adviser Larry Kudlow said on CNN's "State of the Union" that Trudeau's remarks were a "sophomoric political stunt." So to make sure, as Kudlow continued, that Trump did not "permit any show of weakness on the trip to negotiate with North Korea," the president retaliated in kind — pulling a stunt that could backfire badly.
The big question: Are stunts the stuff of good diplomacy, or the way friends and allies should treat each other?
If much of diplomacy is optics, President Trump seems to have left his opera glasses at home. Why would any world leader want to reward this kind of bad behavior by arriving at a quick trade deal that will only enshrine threats as the standard for accomplishing a purpose that should be the carefully considered outcome of discussion and diplomacy?
In one fashion or other, it seems, most of the other G-7 leaders have felt betrayed. All these leaders believe deeply in the natural order of things and the value of preserving a global club of democracies, while Trump believes — and has never demonstrated more clearly than in Charlevoix — in simply shredding such values at will and for his own convenience or profit. This weekend's G-7 simply placed all these feelings in greater, starker relief.
The realization has finally dawned that Donald Trump does not respond to rhetoric or reason — or to anyone ganging up on him. The leading French daily Le Monde
observed
that the G-7 is simply "a symbol of a multilateral cooperation which he abhors." He does respond, however to strength and spine.
So, the battle was not joined in Charlevoix. But it will likely be joined in the weeks to come in retaliation, or at least with fortitude, as the G-6 unite against what now appears quite clearly to be their declared and sworn enemy.
Read more: https://www.cnn.com/2018/06/10/opinions/trump-g-7-bad-taste-opinion-andelman/index.html