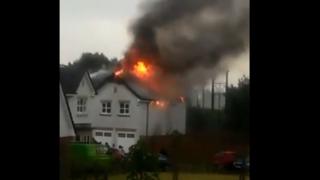 Lightning has set a house on fire near Lenzie in East Dunbartonshire.
Pictures on social media showed flames leaping from the roof of the property in Woodilee.
It comes as parts of Scotland have been struck by extreme weather including hailstorms and torrential downpours.
Earlier huge hailstones stopped traffic on the M9 and A9 between Stirling and Auchterarder. Thunderstorms have caused flash flooding in many areas in the north of Glasgow.
The Met Office has issued a Yellow Be Aware warning for heavy rain and slow-moving thunderstorms.
Read more: http://www.bbc.co.uk/news/uk-scotland-glasgow-west-44427136