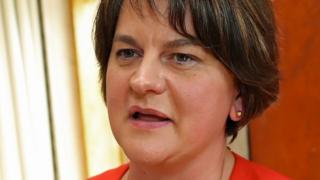 The leader of Northern Ireland's Democratic Unionist Party is to attend the Orange Order's annual Battle of the Boyne parade in Fife later.
Arlene Foster will make the lead address at the County Grand Lodge of East of Scotland's district meeting.
Up to 5,000 marchers are expected to take part in the Orange parade, being held in Cowdenbeath from 13:15.
Ms Foster's attendance at the event has drawn criticism from the SNP and the Scottish Liberal Democrats.
Her party's 10 MPs have been propping up Theresa May's minority UK government since the Conservatives lost their majority in last year's general election.
'First prominent female'
Ms Foster, who was Northern Ireland's first minister until January 2017, is expected to call for closer links between Scotland and the province during her speech at Beath High School at midday.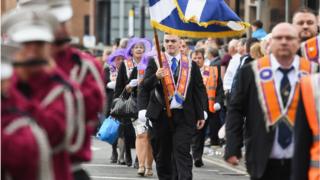 Police have said unlawful behaviour during the event will be dealt with "robustly" and have warned drivers that roads around the parade route will be closed from midday until about 16:00.
'Sensible idea'
Speaking ahead of the event, Robert McLean – executive officer for the Grand Lodge of Scotland – said it was an honour that Ms Foster was taking part.
He added: "We're absolutely delighted that Arlene Foster has accepted out invitation to come to Cowdenbeath and will be the first prominent female to address our members."
The Orange Lodge also said attendance by Northern Ireland politicians at Scottish parades was not unusual, with former first ministers Peter Robinson and David Trimble having done so in the past.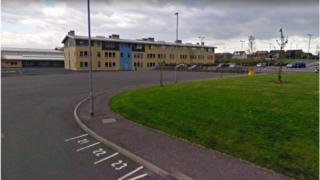 The parade is expected to be one of the biggest in Scotland and will involve lodges from Fife, Edinburgh, the Lothians and parts of Stirlingshire.
Marchers celebrate the Battle of the Boyne in July 1690 when William III – the Dutch-born Protestant better known as William of Orange or King Billy – defeated the Catholic King James II in County Meath.
The SNP has previously said it was "struggling to believe" that Ms Foster thought attending the Fife parade was "a sensible idea".
But the DUP responded by saying: "The SNP should have weightier worries about Scotland than Arlene Foster's diary commitments."
Northern Ireland has been without a government since January last year, after a power-sharing deal between the Democratic Unionist Party (DUP) and Sinn Féin collapsed.
Read more: http://www.bbc.co.uk/news/uk-scotland-edinburgh-east-fife-44653564