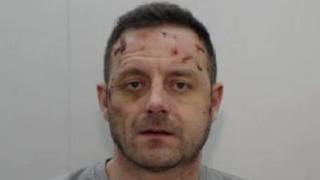 A man who stabbed his partner to death and then jumped out of a second-floor window has been found guilty of murder.
Michael Marler, 37, had admitted knifing Danielle Richardson at a flat in Manchester during a "drugs spree", but denied intending to kill her.
A jury at Manchester Crown Court found Marler, of Brideoak Street, Oldham, guilty of murder earlier. He is due to be sentenced on Friday.
Miss Richardson was stabbed 15 times in her face, neck and back.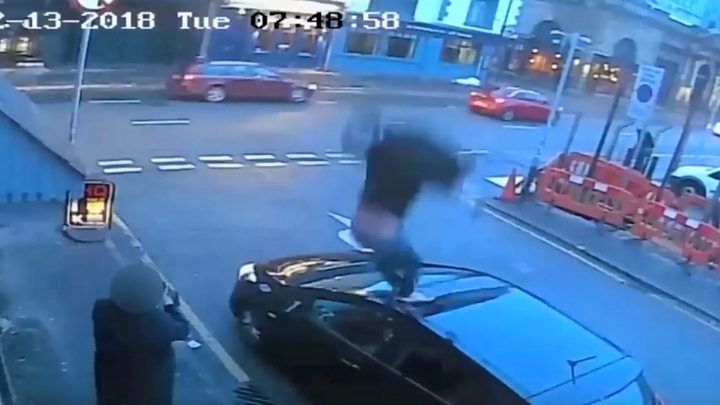 The couple had been out to the cinema and shopping on 12 February 2018 before returning to a flat in Ancoats where they were staying while her house was being redecorated.
They had both smoked cannabis and taken crack cocaine before her death, a jury was told.
At about 07:30 BST the next day, CCTV footage captured Marler landing on a car parked outside the flat after jumping 25ft (7.6m) from a second-storey window.
Dripping in blood, he tried to steal the car before hitting and kicking a number of vehicles, punching and biting a passer-by and attempting to get into another car, the court heard.
When police arrived they noticed blood on the window of the flat and found 24-year-old Miss Richardson's body inside.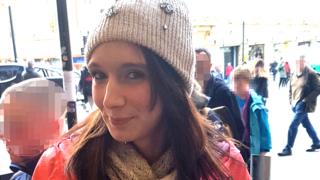 Giving evidence, Marler said he had no recollection of stabbing his girlfriend, jumping out of the window or attacking motorists and pedestrians.
In a police interview, he said: "I loved the girl, I actually loved her to bits. I like to think I'm a nice person. I don't even kill a spider."
The case has been referred to the Independent Office of Police Conduct (IOPC) due to contact Greater Manchester Police had with Miss Richardson over a two-year period before she died.
Read more: http://www.bbc.co.uk/news/uk-england-manchester-45052215