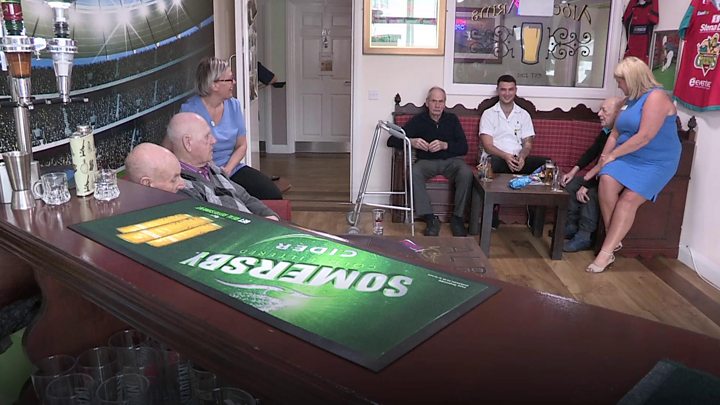 Residents at a Carrickfergus care home have been following this summer's sporting action at their new on-site sports bar.
The Albert Arms officially opened at Carrickfergus Manor in June.
It provided a place to watch the World Cup, Wimbledon and the Open.
The home provides care for 90 older people, including those living with dementia and many of the residents have been using the bar to follow their favourite sports.
The replica sports bar provided a home-from-home for residents, said one of the home's activity coordinators, Tracy Brown.
"We found it very difficult to get the gentlemen involved in a lot of activities in Carrickfergus Manor," she said.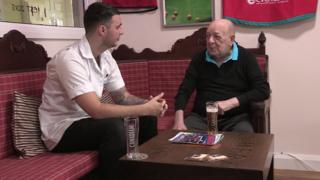 "They were very reluctant to join in but now with the bar if we say we are going to the bar for Gentleman's Club in the afternoon, most of them are up for it."
James Lunn, a senior carer at the home said: "For the gentlemen, I think they just like being a guy".
"You just like to come up and have a pint and get away from everything and you can tell when they're coming away from it they're a lot happier and a lot more settled just as you would be if you went to the pub yourself," he said.
'Positive thing'
The home's ambassador, Stephen Beckett, commended the staff for coming up with the idea, saying it provides independent natural daily activities that they would have enjoyed earlier in their lives.
"It's very innovative… and you can see not only is it a positive thing for the residents it's also a useful thing for the relatives," said Mr Beckett.
The club's sporting memorabilia was donated to the home by Carrickfergus Rugby Club, Linfield FC and the Belfast Giants, with representatives from all three organisations attending the official opening in June.
Carrickfergus Manor said it was all part of maintaining the residents' links with the local community.
Read more: http://www.bbc.co.uk/news/uk-northern-ireland-44939722