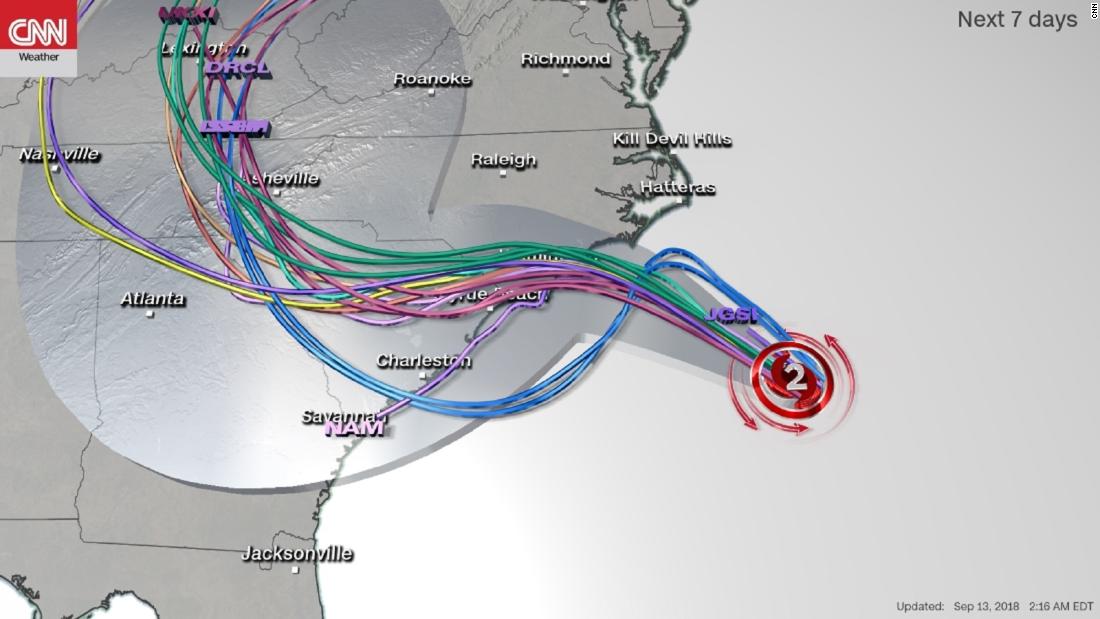 (CNN)Which country is the world's largest oil producer? Saudi Arabia? Russia? Nope. It's the good old USA. Here's what else you need to know to Get Up to Speed and Out the Door. (You can also get "5 Things You Need to Know Today" delivered to your inbox daily. Sign up here.)
After days of waiting, it's here. Devastating winds and rain from Florence hit the Carolinas today. The
Category 2 hurricane
now has maximum sustained winds of 110 mph and is about 200 miles southeast of Wilmington, North Carolina. At this point, it looks like Florence's center will be somewhere over the Carolina coasts late tonight or tomorrow. And as it moves inland, people in Georgia, Virginia and Maryland need to stay alert. The big concern remains that Florence will stall, pounding the region with nonstop rain, catastrophic winds and potentially deadly flooding for days.
One of five huge threats
is storm surge, possibly as high as 13 feet. And there are
six nuclear power plants
in Florence's projected path — but not everyone thinks they can withstand it.
• If you're in the storm's path and have a weak phone connection, use
CNN Lite
, which has text-only top stories (also in Spanish). And if you've lost your internet connection, you can still get offline chats and push alerts, if you
download these apps
now.
• Waived fees. Free lodging. Free phone service. Here are all the ways
businesses are helping
hurricane evacuees.
2. Catholic Church
3. Election integrity
President Trump signed an executive order that intends to
punish foreign entities for meddling
in US elections. The order lets the director of national intelligence identify groups responsible for election interference and direct the Treasury Department to apply sanctions. This order aims to hit more than just the Russians. But Democrats and Republicans criticized it
as insufficient
and want to see mandatory sanctions instead.
4. California shooting
Six people, including the suspect, are dead after a man
opened fire at multiple places
in Bakersfield. Police say the gunman killed his wife and two other people at a trucking business, then fled to a nearby home, where he shot and killed two more people. The gunman hijacked a vehicle and took off, only to pull over when he was confronted by a deputy. The gunman then killed himself.
5. Cancer
By the end of this century, cancer will be the
No. 1 killer in the world
. That depressing news comes in
a new report
from the World Health Organization. Almost 10 million people will die from cancer this year, and there will be 18 million new cases. About one in five men and one in six women will develop cancer in their lifetimes. And cancer is "rapidly growing," the report says, because the world population is growing, and more people means more cancer. Also, the global population is aging, and cancer risks grow as we age.
TODAY'S QUOTE
"His life is in danger. We think that he was poisoned."
The Twitter account of Russian feminist punk band Pussy Riot, which said one of its members
had been hospitalized
. The band is one of the fiercest critics of Russian President Vladimir Putin, who has been accused in the past of poisoning his political opponents.
BREAKFAST BROWSE
Dancing with the 'stars'
A Maxim cover girl, a Disney channel "zombie" and some dude from "Bachelor in Paradise." These are stars? OK. Anyway, they'll
all compete on "DWTS."
Rightful owner
Music makers
Congrats to Drake and Cardi B for grabbing
the most nominations
for the upcoming American Music Awards.
Floating bubbles
You, too, can pop the bubbly among the stars, now that a
special space champagne
has been created for zero-gravity celebrations
'The cape is still in his closet'
Social media
had an epic meltdown
after word got out that Henry Cavill may be done playing Superman, but his manager told us all to chill.
TODAY'S NUMBER
20,000
The number of pallets of bottled water brought in by FEMA but left untouched in Puerto Rico after Hurricane Maria, the result of what one official called "distribution issues"
AND FINALLY
Sweet song
The top part of this newsletter was more than a little rough. So, let's end it with something sweet: a little girl singing "You Are My Sunshine" to a sleeping cat. (
Click to view
.)
Read more: https://www.cnn.com/2018/09/13/us/five-things-september-13-trnd/index.html